Fashion
Bow-Topped Swing Dress
I love the retro inspired but modern feel of this chic swing dress by New Zealand-based designer Hi There from Karen Walker. I'll pair this cute little number with textured tights and ankle strap heels for a night out on the town.
Vince Camuto Colorblocked Coat
Vince Camuto updates the trend in colorblocking with subdued colors and a classic cut, perfect for those chilly days ahead.
Rachel Zoe Tote
Stylist to the stars and now designer Rachel Zoe's fashion and accessory lines are infused with her unique brand of 70's flair. From the gold hardware to the buttery suede, the Lucas Shopper looks like it would have be found slung over the shoulder of a starlet dancing the night away at Studio 54.
DV by Dolce Vita Booties
I love the strap detailing around the ankles of these chic booties by DV. I'll be sure to rock these with my skinny jeans this fall.

J.Crew Shrunken Blazer
I love the perfect cut and fit of this slightly shrunken little boy's blazer from J.Crew. I can't wait to pair it with a faded denim shirt and dark jeans this fall.
A.L.C. Peplum Dress
Pour La Victoire Pumps
I love how the chic ankle straps add a bit of edge to these classic suede pumps by Pour La Victoire.
Vince Pea Coat
My cold weather essential, I can't wait to snap up this cozy pea coat by Vince.
Vince Ribbed Cowl Neck Sweater
I can't wait until the temperatures start to drop and I can slip on this creamy, lush ribbed knit sweater textured with a cozy cowl neck by Vince.
Alice + Olivia Top
The sweetness of the pearl accented Peter Pan collar on this cropped alice + olivia blouse is balanced by the edginess of the exposed zipper that fastens the back of this capped sleeve confection.
Dooney & Bourke Crossbody Bag
Available in a veritable rainbow of colors, the sleek simplicity of this chic saddle bag by Dooney & Bourke is a perfect complement to your weekend wardrobe.
Boy. By Band of Outsiders Blazer
Summer has just arrived but I'm already salivating over fall 2012 fashions. I can't wait to slip into this impeccably tailored blazer by Boy. By Band of Outsiders with striking architectural pleating below the waistline.
Splurge vs. Save: Glitter Edition
There are times when you come across an item that you are madly in love with, just not the price tag. Often we are left having to make that tough decision whether to break the bank or go for a similar item that is just as fabulous but a more accommodating price.

1A. Christian Louboutin Dafsling glittered platform – $1,075

1B. Steve Madden 'Dejavu' – $129.95

2A. Miu Miu Glitter Bootie – $890

2B. To Be Announced 'Alvarez' – $199.95

3A. Giuseppe Zanotti – $695

3B. Bebe 'Omega' glitter wedge – $119.95

4A. Giuseppe Zanotti – $550

4B. Carvela – $214.86

5A. Miu Miu sandal – $730

5B. Badgley Mischka 'Indigo Iii' – $118

6A. Kate Spade 'New York Charm' heel – $325

6B. Roland Cartier 'Havana' – $85

7A. Sergio Rossi glitter pump – $399.95

7B. Carlos by Carlos Santana – $99
Neon Hue
Although winter has been unseasonably warm this year, that makes it that much harder from keeping the hotter temperatures out of your mind, what better way to give into this unusual behavior then by adding a neon hue to brighten up your wardrobe! Just because it will be cold soon does not mean we have to stop the shine!

1. Diane von Furstenberg – $625

2. Lanvin skirt – $1,190

3. Rag & Bone pants – $187

4. Equipment blouse – $355

5. Giuseppe Zanotti – $695

6. Gap Neon scarf – $30

7. Cambridge satchel – $200

8. Graham leather wrap bracelet – $55
4 Prints to Try
Jump into the New Year with some of the hottest patterns that are flooding retailers all over! From box to square ensembles, closely identical yet slightly different, be sure to leave an imprint to your look with these popular must have prints!
Tartan

LEFT: J. Crew Boy shirt in Carrick Tartan– $78
RIGHT: Christian Louboutin Rollergirl tartan canvas loafers – $995
Plaid

LEFT: Victoria's Secret Plaid Ruffle Top – $49.50
RIGHT: Old Navy Plaid Coat– $60
Houndstooth

LEFT: Charter Club Houndstooth Jacket– $99
RIGHT: Marni Houndstooth Blouse– $890
Gingham

LEFT: C&C California Gingham Top – $118
RIGHT: Sonia by Sonia Rykiel Gingham Top – $329
Holiday Feet
Add a little sparkle, glitz and glam to your holiday wear with a little kick! Put your best foot forward in these festive heels.

1. Aldo – Durling – $100

2. Topshop – Luxury Velvet– $116

3. ASOS – Hysteric Glitter Platform– $72

4. Nine West – Free Spirit – $109

5. Steve Madden – Parfait – $139.95

6. Bakers shoes – Showstopper – $110

7. Betsey Johnson – Caseyy-R– $129.95

8. Michael Michael Kors – Josie – $175

9. Fergie – Olivia– $110

10. Sam Edelman – Marina– $130

11. Enzo Angiolini – Thaddea– $119.95

12. Kate Spade –
13. Badgley Mischka – Wynter– $240

14. Nina – Pangea– $84.95
Peacoats with a Twist
The peacoat has come a long way since it was first donned by U.S. and European sailors. This version by Burberry with its pleated back skirt brings a perfect dose of feminine detailing to the classic style.
Holiday Dresses
With the holiday season in full swing and the holiday parties a plenty, keep festive with some of the hottest styles. Stand out with a bold color, sparkle in sequins, get glam in velvet or keep it classic with a simple black and white.

1. Akira – Foil Pleated Dress – $44.90

2. Motel – Gabby Sequin Dress– $104.40

3.Karen Kane – Rose Ruffle Dress – $148

4. Lulu – Living Lively Burgundy Dress – $35

5. Nordstrom – Taylor Bengaline Dress – $198

6. Nasty Gal – Wild Spike Dress – $150

7. ASOS – Party Dress in Mesh – $99.99

8. BB Dakota – Faith Dress – $105

9. Lulu – Night They Invented Champagne Ivory Dress – $41

10. Macy's – Sugar & Spice scoopneck mesh striped dress – $46
Statement Necklaces Under $150
Whether you're going out for a night on the town or keeping it casual in your day-to-day wear, statement necklaces are a great way to vamp up your look. Paired with a cocktail dress or a button-up and blazer, these necklaces are sure to make a statement. Shop these fabulous finds all under $150 that are sure to catch the eye!
Julie & Company Mirage Necklace - $150
Martin & Ricci Gold Plated Bliss Necklace - $105
J. Crew Bauble Necklace - $150
Modcloth Statement of the Art Necklace - $50
ASOS Pleated Leather Collar Necklace - $36
1928 Bridal Art Deco Revival Eternity Necklace - $150
Park Avenue Necklace - $123
Julyana Wide High Polished Silver Bib Choker Necklace - $56
Kate Spade Cascade Bib Necklace - $148
BCBG Braided Necklace - $54
15 Items to Add to Your Winter Wardrobe
With the arrival of a new season, it is easy to rush into a shopping frenzy splurging on new items to prepare for the change in weather; however, that is not always the case. Instead of filling your closets with new clothes from top-to-bottom, here are a list of 15 items to add on to your wardrobe to help carry you through the colder temperatures. Whether you are layering your look with a scarf or adding a touch of color to outfit, these items will keep you looking stylish.
Winter Scarf

Madewell Plaid Gentleman Scarf
Faux Fur

Cozy Knit's

Bright Bottom

Odilia Trouser
Cape

Winter White

Gloves

Sequins

Stockings

Leather

Sleeveless Vest

Leather Boots

SANDRO Bottle Green Corduroy's
The Perfect Coat

Printed Bottom

High-Heeled Loafers
Loafers, yes loafers have returned and are in full demand! Return of the tassels, coin slots and now with a heel! These refined bottoms can easily be carried from day, cuffed bottoms and a cardigan - to work, pencil skirt and blouse - to night, little black dress with a blazer. A great way to polish off your look! Shop this trend now!
River Island Color Block Platform

Pour La Victoire 'Larkin'

Naughty Monkey 'Retro Glam'

Aldo 'Bagnall'

Patchwork Patent Chain Platforms
6 Looks to Try This Fall
LEATHER SKIRTS
As if we could not get enough leather during the fall season, leather skirts in all shapes – tailored, pencil or pleated, are a great touch to spice up a casual look. On contrary to what most women think, leather skirts are quite versatile and easy to carry from day, work to night with the right accessories and complementing pieces. Tips to pulling off: keep the look simple and pair with a casual top. Limit this look to one leather item. This is a classic piece that will remain in your closet for years to come.
BRIGHT BOTTOMS
In contrast to the neutrals and darker shades that normally preside during the colder season, brighter tones have carried over into the fall season, as well. Whether high-waisted, flare or cropped, this season's shapes offer a palette of vibrant, bolder hues. A great pop to any outfit.
HIGH SLITS
Hemlines may be longer, but yet still manage to show a peek of skin. Quietly seductive, yet refined with a twist. Balance out this look with a more concealed top that shows less. Dare to bare, one of the sexiest looks this season.
SHINE
Glossy finished, metallic fabrics exude glamour. A great statement piece to make any outfit sparkle. The best way to pull this off is by keeping the shimmer to one item only, let one shine and opt for more subtle tones.
POLKA DOTS
This season's go-to print, dots are a playful pattern and a fresh way to add a little fun to your wardrobe. With the different sizes ranging from microscopic to oversized dots, worn together or as a separate, this trend is spot on.
MONOCHROME
Toss the idea of being too "matchy-matchy," major overload with a single color head-to-toe! Translating a monochrome look can be done with any shade. Stand out with a single color or pare down the look with neutral accessories.
Charlie Jade Maxi Dress
Maxi dresses are a must have wardrobe staple for summer. Slip into this silk version by Charlie Jade with braided trim neckline, ruffled hem and bohemian print for the perfect dose of warm weather chic.
Paige Premium Denim in Pomodoro Wash
Spice up your summer wardrobe with a pair of vibrant red denim jeans by Paige Premium Denim. Seen on the well toned gams of celebs strolling down Robertson Boulevard, fortunately there is no need to venture to Los Angeles to scoop up this hot little trend.
Mother Knows Best
I am currently obsessed with 70's inspired high waisted flared jeans. Finding the perfect retro-inspired pair has been tough.Fortunately, designer Tim Kaeding has come to the rescue with his new denim brand Mother. After spending the last two years developing materials that look like denim but feel like cashmere, he has combined this new technology with 15 new fits including the Curfew, the Drama, and, for the wide-leg beginner, the Runaway Skinny Flare.

A Return to Classic Pumps
First appearing on the well trod soles of supermodel Kate Moss, classic, pointed toe pumps have reappeared after several years in fashion Siberia. This version from Nine West includes two hot trends in one, the essential pump fashioned in animal print.
BC Footwear Outerspace Bootie
BC Footwear has come to the rescue of all clog lovers, including myself. These uber cool booties have the studded trim and wooden platform heel of a classic clog, but the side zip ankle boot keeps your ankles toasty when the temps drop this winter.

The Coolest Thing to Ever Happen to Your Bra
"Shoulder jewelry" is what designer Ruth Davis calls her Lucky Lady Bra Straps. These handmade beaded strands cleverly hook onto any multi-way or convertible bra that comes with detachable straps. The purpose: allowing every garment ever created that cuts off where a bra strap sticks out to finally be worn fashionably without the undeniable annoyance of a strapless bra that won't stay up or clear, shiny, plastic straps that are far too visible.
Having trouble wearing strapless blouses herself, Davis says, "I would get a large gap underneath my clothes, so I decided to design something colorful that was not a bling bra." Going to work at none other than her kitchen table, Davis crafted an accessory that was adaptable to her bra yet appeared built into the shirt.
"After much trial and error, I settled on the best way to construct the bra straps and soon began wearing them out in public with my tank tops, off the shoulder tops and peasant tops. I was shocked at the overwhelming positive response I was getting from my girlfriends!" says Davis.
So who can wear the Lucky Lady Bra Straps?
"My youngest client is in the sixth grade on up to ladies in their seventies. They really are functional for all ages."

Check out the entire Lucky Lady Bra Strap collection at www.luckyladybrastraps.com.
What The Color of Your Bathing Suit is Really Saying
We couldn't be more thrilled with swimsuit season just around the corner! Although we're saddened by having to hide away our candy bars and work twice as hard at the gym, the excitement of snagging a brand new skimpy suit for ocean swims and catching rays makes it all the while worth it.
Walking at a steady pace through the aisles, we grab every single bright-colored, pattern pleaser that we think will look good on our somewhat toned bodies. A bikini, a tankini and even a monokini – all potential choices portraying our beachside selves, but the color selections we're gravitating toward also give a quick rundown to the average boardwalker of our personality type. Read on to see what your hue says about you…
If your bathing suit is red, you desire to be noticed, crave the spotlight and aren't afraid to hide your sense of power and optimistic ways.
If your bathing suit is navy blue, you tend to stick to the conservative side, while your confident attitude displays a great deal of trustworthiness.
If your bathing suit is purple, you are an eccentric individual. Uniqueness and creativity are your strong suit. No pun intended.
If your bathing suit is black, you tend to be rather mysterious and sensitive, not sharing your inner thoughts so easily with others.
If your bathing suit is brown, you are one grounded, stable and reliable individual.
If your bathing suit is gray or silver, you are exceptionally easygoing and comfortable with yourself.
If your bathing suit is white, you hold purity close to home and find yourself being extra organized, logical and prompt in most situations.
If your bathing suit is yellow, your go-getting personality makes you all around cheery, coming across ultra happy, and your creative side isn't so bad either.
If your bathing suit is orange, you fear being alone and strive to stick out as a social bug.
If your bathing suit is hot pink, your caregiver ways hold true to your calm, gentle self.
If your bathing suit is green, you are a free spirit, who's affectionate and efficiently embraces new beginnings.
European Metals
Chunky necklaces convey dimension and texture, bringing to life every aspect of the modern, metallic look. Carried at Annapolis' Lilac Bijoux, Manouk (based all the way in the Netherlands) can be quickly spotted by their creative use of balls and collective strings. Here are some of our most desired:

Shapes on Cords, $64
Three Playful Summer Looks
Based on modern street style and what women want for their wardrobes, Vintage Havana clothing has all the hottest summer fashions under $100. Everything from utilitarian pants, boyfriend blazers, embroidered dresses, sexy miniskirts and denim jackets convey constant trend on trend action, and these three inspirational looks comply completely.

Check out the entire line at shopvintagehavana.com.
5 Footwear Essentials Every Woman Should Own
Each of these items is super-effective and extremely friendly on the wallet, banking in under $15 each.
1. Peek-A-Shoe Pouch (above)
The only way to travel and keep your stilettos well protected, this hot pink storage saver also comes in handy for organizing socks, swim wear and intimates from going astray in your suitcase.

2. Perfect Polish
Like a piece of heaven for us shoe fanatics, who hyperventilate over the sign of a scratch, can breathe easier. The touch up pen's carnuba wax formula removes scuffs instantly and even adds a little shine. We'll take five please! (Notice the before and after below.)

3. Pedi Fume
We all have a little odor whether we want to admit it or not. Keep feet smelling fresh and bacteria free during the hot and hazy days of summer. Natural tea tree and cardamom do just that.

4. Sole Stoppers
These petal-shaped traction stickers adhere to the bottom of your soles. In no way at all shall a slip and slide be performed on wet tile again.

5. Sweaty Pedi
Made with notes of sweet lavender and vanilla, a few sprays will halt perspiration and blisters in a snap.
Online Bargain Hunting
ShopTheLook.net is an online superstore filled with hundreds of affordable, trend-driven accessories retailing under $40. While we could spend hours paroozing through the well put together collections of jewels, sequins and pearls, the accessory experts at ShopTheLook literally do just that. Jet setting from London to Paris, Italy and Japan, then back to Los Angeles and New York, their team has been locating great fashions for over ten years now, turning runway looks into a reality.
Incredible Steals:

Bib Necklace, $26

Folk Luxe Stone Necklace, $26
Hey There Honeybee
Every woman should own a strikingly bright, "look at me" yellow card-y. A spring fling must that offers an unspoken sense of optimism and reminders of the school bus days, this vivacious drapery will add a ray of sunshine (and undiscovered energy) to the hectic spring cleaning buzz if nothing else does.
Blooms
Crafting the hottest styles in footwear, J SHOES, the global brand favored by Christian Siriano, Jay-Z and Keri Hilson happens to be headquartered right here in Owings Mills, Maryland. Lucky for us! High on their hot list for spring is the Bloom. This open-toe leather, slip-on sandal echoes an international panache. Add the cushioned leather sole, and you have the most comfortable stay put, fit shoe ever.
Top 10 Must-Haves This Spring
1. Boy-cut Blazers are feminine all the way when coupled with a clean skinny jean and an ultra floral top.
2. Caged Shoes bring a sexy update to spring's staple dresses and skirts.
3. Tapered Trousers and a fitted T-shirt look flattering with a pair of stand-out, chunky sandals.
4. Novelty Shorts when pleated and cuffed become dressy in a snap.
5. Floral Dresses flourish a feel good tone over and over again.
6. Turquoise hues from aqua to teal instill a calming allure.
7. Abstract Prints express imagination at its finest.
8. Bib Necklaces hooked by golden petals, gem stones and extra fabric create a fun-spirited neckline.
9. Weightless Cardigans updated with ribbons, lace and chiffon are perfect for layering.
10. Clogs an old-school basic are back and revamped.
How Well Do You Know Your Denim?
Our denim dictionary has 28 up-to-the-minute styles to help you stay on trend and shift through the rack with confidence. Plus, get fitted ahead of time. National Jean Company's Fit Guide lists detailed descriptions of inseams, front rises, leg openings, base rises – the works, and not just by the brand but by each style within that brand.

7 FOR ALL MANKIND – buttery soft
AG JEANS – handmade vintage
BIG STAR – affordable fashion
BLACK ORCHID – Hollywood's newest fitted fav
BLANK – pop culture love
BROWN LABEL – classic Western
CITIZENS OF HUMANITY – one for all
CURRENT/ELLIOTT – tailored to fit
DL1961 – futuristic chicness
DOMINO – Japanese inspired
EARNEST SEWN – complimenting detail
FIDELITY DENIM – what women want
GENETIC DENIM – global trendsetter
GOLDSIGN – reliably lightweight
HUDSON – curves a go-go
J BRAND – complete sophistication
JOES JEANS - iconic
MILLARD FILLMORE – quality goodness
MY LOVELY JEAN – simply causal
PAIGE PREMIUM DENIM – free-spirited Californian
PEOPLE'S LIBERATION – a revolution of uniqueness
RADCLIFFE DENIM - traditional
RAVEN – nightlife perfection
RED ENGINE – authentic flair
RVTS – classic meets trend
TRUE RELIGION – fashion-forward
UNKNOWN FACTORY – rock and roll aesthetics
WILLIAM RAST – Hollywood hotness
For the Huntress
A high gloss shine and adorable buckle, Hunter's Wellington boots
make us wish for rain. Around since the 19th century, we're especially taken to splashing around in statement-making brights like their robin egg blue. Not to mention they're great for keeping out moisture, these get five stars for quality rain gear.

Our "If We Could, We'd Wear It Everyday" Dress
National Jean Company's newest line, NJC Boutique, can be categorized by two words– super soft! Among the collection, its Southern style fringe dress,
stitched with a built-in scarf, puts a 360 degree spin on this otherwise simple taupe-toned one of a kind. If only we could take it off for bed…
4,000 Reasons to Think Twice About Candy Wrappers
Nahui Ollin (pronouned as now-we-oh-lean) sells eco-friendly handbags and accessories made from assorted candy wrappers and recyclable materials. Founder of the line, Olga Abadi, uses the ancient Mayan technique of binding everyday materials, a process that prevents the emission of harmful substances into the atmosphere. Taking up to 4,000 wrappers and four days to hand produce just one bag, these designs really are one of a kind! Check it out at nahuiollin.com.
Some of Our Favs:
Mini Clutch
Tutti Frutti Handbag
Black Attack
Leggings
are the stylish go-to for slimmer looking legs. "They conceal and camouflage unsightly leg areas," says Megan Mucci, a Dallas, TX-based designer. "Plus leggings are a great way to still have a little fun in your wardrobe." We recommend matching black leggings with a long tunic or sweater dress, or go all the way and have both your top and bottom dominate in black. Dressing in all solids will make you look pounds lighter. Alter it a bit and instill a splash of color. A bright pair of pumps drawing the eye downward will do just the trick!
Adorable Fashion-inspired Goodies for Your Pup
Pamper your pet with a fashionable chew toy from Haute Diggity Dog. The collection offers miniature versions of designer pumps and purses for your pooch, mimicking the industries best with names like Bark Jacobs, Vera Wag and Dolce and Grrrbana. Supporting the trend, owner of Lulu Jane's elegant pet accessories, Kris Fellowes says, "Women comprise 89% of the buying power for pets. It only makes sense to make pet items that appeal to the woman and her fashion sense." We concur!
Our Top Picks for The Doggie Diva:

Vera Wag, Jimmy Chew, Dolce and Grrrbana and Bark Jacobs

Chewy Vuiton
The Luxurious and Comfortable UGG
Responsible for the creation of an entirely new category of footwear, UGG's have spread from the beaches of Australia to the runways in Milan, Paris and New York. Igniting a new frenzy in footwear, we've rounded up some of our most loved sheepskin styles.
The Bailey Button

Cozy sheepskin with buttoned shaft to create a cuffed look
The Cardy Classic

A rib-knit with reversible buttons for three-in-one wear: slumped down, folded over or all the way up
Short Metallic

Shiny, bronze logos on twin-faced sheepskin
The Tall Bomber

An edgy boot with a waxy leather finish
The Striped Cable Knit

A two-toned contrast of stripes
The Highkoo Boot

Adjustable button tabs atop a rustic suede
Our Favorite Things This Holiday Season
From hands to feet and head to wrist, we've got it covered. Starting with…
Vera Wang's Tough-Meets-Tender 'Sheila' Italian Boots
Candy Colored Watch Bands
Kate Spade's Three String Pearl Necklace
J Crew's Reversed Seam Cardigan
T-strap Sandal Key Chain
Multicolored Fingerless Gloves
Burberry's Heart Print Rain Boots
- Jessica Krznaric, Online Fashion Editor
Two Show-Stopping New Year's Eve Looks
For the flirty conservative: Sue Wong's beaded strapless
with intricate floral spirals and a densely ruched bodice
For the sexy enthusiast: Adrianna Papell's mesh paillette tank
covered in golden sequins and tons of shine
Space Savers
A weightless travel companion to get you from gate to gate, the Stow Away Bag is a vacationer's dream come true.
8 Reasons Why We Love It
1. It fully supports weekend getaways and extended trips.
2. Each bag is featherweight coming in at less than 1 lb and skidding past overweight baggage fees.
3. Equipped with a matching carrying case to fold away when not in use, we get an A+ in the house guest tidiness category.
4. Water resistance rids of our damaged luggage woes.
5. The bold colors satisfy the trendsetter within.
6. It keeps our laptops looking young.
7. We can take our Stow literally anywhere from camping to the gym to the beach.
8. Donations from each purchase benefit the Believe In Tomorrow Children's Foundation making us feel warm and fuzzy inside.
Web Watch: Blingiton.net
For the stylish, yet value conscious shopper, blingiton.net offers the hottest fashion accessories and designer inspired purses at extremely affordable prices. Following in the footsteps of Amazon.com and other online retailers, the fashionista friendly site dodges steep mark-ups while highly valuing quality products.
"Many retailers either offer a single line of accessories targeted to a specific occasion, or stock so many items that customers are too overwhelmed to make a smart choice," said founder Camille Gatenby. "Our well-rounded collection represents the many styles real women are expected to master - for example, casual on the weekends or glam at a formal wedding. And most importantly, we feature unique products that aren't anything you'd find at your local mall."
But that's not all that sets this "one-stop" accessory haven aside. Bling It On's virtual Internet parties put a curveball on online shopping, allowing women to come together regardless of their physical location and advise each other on great looks they can create within the site.
"It's about infusing the collaborative spirit of web into the way we shop, and it's a fun way for women to shop together, no matter where their friends and family live," said Gatenby.
- Jessica Krznaric, Online Fashion Editor
A Few Fab Finds:
Silver Loop Necklace Set, $29
Feather Trimmed Circle Necklace, $26
Burgundy Croc Purse, $59
Gold Bangles, $23
Over the Knee Boots
There's a mesmerizing attraction towards boots
that overshadow the leg.
The Details
Material: Nappa leather
Extras: Rear zippers & leather soles
Heel Height: 4.5 inches
Designer: Alessandro Dell'acqua
Nickname: Italy's It Boy (given for his men's line)
Hometown: Naples, Italy
For the Record: Alessandro Dell'acqua worked alongside Gianni Versace and as the Creative Director of Pietro Pianforini, a luxury knitwear label, becoming famed for his talents with wool, cashmere and jersey.
Other Projects: Besides the shoe line, Dell'acqua launched a handbag, eyewear and a fragrance line including Alessandro Dell Acqua For Men and Woman In Rose.
Distinction: Sharp tailoring that unites sensuality and femininity
Clients: Jennifer Lopez, Courtney Love, Kristin Davis and Mena Suvari
Fashionable Finds for the Winter Season
Steve Madden's Wool Topper
screams angel-esque. Plus, black saucer buttons against a cream backdrop is pure brilliance.
Ultra-slick denim is a great alternative to the standard black legging.
- Citizens of Humanity Skinny Legging
Global-inspired fashions like these Persian Plaid Wraps
is a quick way to expand your color scheme and add dimension.
I love the knotted tie and slouched side on these Jessii Ankle Boots,
not to mention the cognac hue.
The stormy palate and diagonal pleating puts an interesting spin on the beloved tunic.
- One World Ombre Tunic
You can never go wrong with a geometrics stone cuff.
- Jet Circle Cuff

Jessica Krznaric, Online Fashion Editor
Statement Maker
Rising in trend, floral isn't necessarily associated with delicacy anymore. Go for a chunky rose ring
lined with tons of shimmer action, and no need to worry about additional tie-ins. A one accessory minimum is all that's needed.
The Cropped Blazer
Menswear inspired fashion like Zoa's Tuxedo Jacket
pulls inspiration from a man but is sown to show off the slender silhouette of a woman. Ultra soft with silk lining, the rolled sleeves and a basic V-neck restructure femininity at its finest.
Office Organizer
Zipper chicness, adoring plum richness, and compartments galore to combat the organizer maniac within make this the frontrunner of handbag happiness. Available in black, army green and rustic cobalt, it's hard to buy just one of Linea Pell's
creations. Compacting life's chaos in style, Pell's golden exaggerations complement nicely drawing just the right dose of uptown attention.
From the Runway
Los Angeles-based fashion designer and celebrity stylist Margi Kent reentered into the high-end market with the debut of her Fall '09 collection. Taking time out to focus on personal styling services, Kent's latest assignment (dressing Stevie Nick's for the Fleetwood Mac World Tour) has allowed her current line to flourish in custom bridal wear, cocktail and evening gowns.
"Pulling back from large retailers has allowed me to explore what I love best, fashion as conceptual art and to create couture pieces in a studio setting," says Kent. "The new sensibility forged during this period has had a major impact on the collection."
The Rock N' Roll Doctor, a name acclaimed from her skill to repair any fashion mishap, continues to draw inspiration from a love of sculpture and architecture. Working closely with celebrities like Meryl Streep, Demi Moore, Mariah Carey and Neil Diamond, Kent's designs wed pleasure with intellect, while strongly supporting the importance of inner beauty.
"Stars must stay true to themselves and wear things that express who they are, while keeping a silhouette that fits their body type," states Kent. "They should never let the clothes wear them. It's important to acknowledge the current trends, but do not give in completely. The end result is an image that is classic, individual and therefore timeless."
- Jessica Krznaric, Online Fashion Editor

A Look From the Runway…
Scarves that make you feel good
A trade-off to the long necklace, Love Quotes scarves
are a toasty favorite to capture warmth and instantly jumpstart looks otherwise buried by the cold. Accompanied with inspirational quotes like Oscar Hammerstein's "Our love is the greatest gift we can give one another," these Italian linens run wild through the color wheel with choices like Espresso and Violet Frost. Seen around the necks of Hilary Duff, Christina Aguilera, Sienna Miller, Nicky Hilton, Jessica Alba and Lauren Conrad, each purchase donates 10% of proceeds to international children's charities. Now that's something to feel good about.
Plaid Pleasers
With the flannel explosion into fall wear, all we can say is "Stripes step aside." One step beyond the flannel button up and a stretch more fabric, Drew's Flannel Tunic
emulates the front of a button down with poet-style sleeves for the ultimate causal weekender look. Pair mini's with high boots to make up for the lack of fabric. Still feel uneasy? Throw on colored opaque tights underneath for solidification.
The Perfect Shoe to Shift into Fall
Ankle boots like Le Silla's
stormy stilettos pair up nicely with deep florals and mid-length skirts making them just the right shoe for transitioning summery "hard to let go ofs" into fall. Not in the mood to bear skin? Ankle boots and skinny jeans were born to blend. Layer with a V-neck tee and open wrap cardigan for an afternoon out on the town.
Leopard and Lace
Funky prints lend undiscovered attention to monotone cardigans, and an added touch of feminine lace gives a delicate yet flirtatious vibe when matched next to a loud counterpart like leopard.
Shown Above: White House Black Market's Leopard Print Cardigan

Juicy's Charm
Hinting towards feelings of nostalgia, Juicy Couture's Wide Ring Charm Bracelet
piles colorful stones and funky pieces among ring-made strands for a one-of-a-kind jewelry box treasure.
Fall Forecast
While anticipating the arrival of fall, here are the top trends to be on the lookout for.
1. The Fitted Blazer
Tailored to replicate a menswear persona, a fitted blazer over a plain tank and jeans generates causal to dressy in 60 seconds flat.
We Love: The Kenna-T Boyfriend Blazer
2. Elaborate Leggings
Leather, prints and zippers revamp leggings to a whole new level of chic.
We Want: Diane von Furstenberg's Printed Leggings
3. Sweater Shoes
Crochet detailing gives a comfy, cozy fireplace allure on these sweater-knit boots.
We Gotta Have: The UGG® Australia Sweater Knit Boot
4. Faux Fur
Statement-making faux fur vests are pocket friendly and a stylish counterpart to dark fabrics.
We Like: Damselle's Faux Lynx Fur Vest
5. Studded Handbags
Belted studs awaken any background and the papaya print reminds me of leaves changing colors.
We've Eyeing: Rebecca Minkoff's "Stud Devote" Tote
6. Chucky Metals
Layered chains, thick cuffs and chucky bracelets instill an edgy, rock-and-roll vibe.
We Crave: Lois Hill's Handcrafted Cuff Bracelet
- Jessica Krznaric, Online Fashion Editor
Layered Brilliance
Haute's Rosette Vest & Tee
artfully revamps the practical, tailored vest with golden, chiffon fabrics and satin ruffles.
Quick Fashion Fix: Pair crafty vests with fitted tees to build multifunctional pieces.
Krazed for Kate
Kate Spade's shoe line keeps your feet in beach mode on and off the shore. Plus for a quick fashion fix, create a dominating duo by matching your lipstick with your shoe shade. Kate Spade's Bamboo Wedges
fully intensify when coupled with a little coral coloring on the lips.
Denim Desires
Designer Joe Dahan's origami-like eye has allowed him to craft denim to die for. What's the secret? Contrasting lines that show off the curves you want everyone to see and slim down the areas you'd rather not. Winning hearts (and legs), Dahan's designs have been spotted on Cameron Diaz, Beyoncé, Christina Aguilera, Reese Witherspoon, Jessica Alba and Angelina Jolie.
Featured above: Joes Jeans Honey Boot Cut in Ingrid
Sweet Sophistication
Rafe's hot pink Ali Tote
adds a streak of personality effortlessly combating the basic buildup of plain prints.
Children's Eco-Friendly Fashion Lines
Popping up on the market, organic origins are revolutionizing youngster wear. Wee Chic, the freshest addition in Baltimore, features apparel, accessories and gifts for newborns to 6-year-olds.
An exclusive retailer to Appaman and Kate Quinn Organics, the environmentally friendly shop also carries Ella Moss, Michael Stars, Splendid and J Knott Art. The store, born from owner Bridge Stickline's inability to find the clothes she desired for her daughter, is now a threshold to stylish, organic fashions for children.
Grown and processed without the use of chemicals and pesticides, organic cotton offers clothing without latent chemicals.
"Although not every product is organic, we were very thoughtful about the fabrics in our assortment. I sought out designers that use organic cottons and bamboo fabrics in new modern ways that give eco-dressing a new face," Stickline says.
- Jessica Krznaric, Online Fashion Editor
Popular on the Rack…
Boys

Baby Blue Bulldog Toddler Tee

Cotton Twilled Khaki Board Shorts. Available in Putty & Sunny Blue.

Organic Cotton Cowboy-style Button Up and Cargo Pants
Girls

Stretch Cotton Geo Dress

"Amazingly soft" Peacock Tee

Snap Front Denim Skirt
Baby

Organic Cotton Peacock Onesie

Signature Kelly Green Monkey Onesie

"Light as a Feather" Lavender Romper
Coming this fall: Tea Collection's non-chemically treated, 100% cotton pajama line.
Wee Chic
10751 Falls Road, Ste. 101
Lutherville, MD. 21093
410.878.7400
http://www.weechic.com
Stellar Beachside Essentials
Steve Madden's St. Tropez Tote
– A shiny, oversized magenta tote adds a little spice to your travels.

Tom Ford Open Side Sunglasses
– Open-sided shades crafted with crisscrossed accents creates distinction.

Clarins After Sun Moisturizer Self Tanner
– A sunbather's lifesaver! A replenishing moisturizer that works to prolong the life of your tan.
Draw attention covering up!
Go bold with your swimsuit cover-up selections. ViX Swimwear introduces the Long Halter Cover-Up.
This Spanish-style halter dress, light enough for the sun's blast, uses blocks of color outlined in bronze studs for a flirty beach feel.
What We Love
1. Its adaptable conversion to daywear
2. The expandable color palate for accessorizing
3. Its flowy allure for walks on the beach
Fuming Fuchsia
Baldan's
Mary Jane inspired, show-stopping satin pumps are "high" on the hot list. Detailed braiding versus the 4 ½ inch heel juggles a sweet and sexy style regime. Plus, bronze embellishments for the clincher, screams flawless fun.
Prom Report
Prom pandemonium flooded this year's fashion front with flashy neon draperies and punchy prints. With formality slowing fading, sheer gowns with minimal beading came highly preferred, among last year's short and sassy ruffled styles.
Jelysa Sheppard (shown above) chose a short scarlet Jovani dress from Ransom's Boutique in Towson.
"I wanted my prom dress to be short with a one strap shoulder. I had set out looking for simple, yet elegant and different," Sheppard said.
Also on the A list for prom-goers were high platform shoes with thick straps, flip flops and minimal jewelry. For men, white tuxes won over the usual attack of the black. Tennis shoes and sunglasses made appearances with canes and top hats falling off the radar.
John Critzos (shown above) went bold to his senior prom, sporting a red tuxedo and a red baseball hat.
"I decided to wear a red tux because I like to stand out, and I knew it would be one of a kind. The majority of the guys wore white tuxedos though, which was a huge hit this year."
Other Prom-goer's Picks:

- Jessica Krznaric, Online Fashion Editor
Summer Sandal Guide
The Giada by Sam Edleman
– An edgy gladiator style sandal embellished with front beading and leopard prints.
Perfect For: An afternoon lunch
The 9927 Braided Thong Sandal by Viva
– A well-dressed braided strap with rhinestone detailing, drenched in soft silver hues.
Perfect For: A night on the town
The I9E184 Tassel Sandal by Ioannis
– A bold t-strapped sandal merging toe support and playful tassels.
Perfect For: Beach Travels
The Big Buckle Sandal by Cocobelle
– A patent leather flat highlighting bright yellow fashion schemes and enlarged buckles.
Perfect For: City Shopping
The Cree by Cynthia Vincent
– A one-of-a-kind Bohemian shoe dressed in suede fringe and electric teal tones.
Perfect For: Poolside Relaxation
The Jeweled Sandal by Giuseppe Zanotti
– An artsy t-strap flat dressed in red suede and a jeweled brooch.
Perfect For: Office Attention

- Jessica Krznaric, Online Fashion Editor
Spotted: Mid City Totes
High on our radar for spring is Foley + Corinna's Mid City Tote.
Its seashell pink shell adds a calming counterpart. Plus outer storage sections for easily accessible items and double handles make this bag a summer favorite.
Delicately Loud
A muted pastel carries a dainty glow but comes alive with chunky buckles. We spotted Velvet Angel's Charlatan Pumps
to join in khaki coalition and welcome the warmth.
A True Investment
We've eyed up Kensie's Sleeveless Jacket
as a quality asset with high versatility. The front pockets and enlarged buttons turn this simple solid into a spotlight piece, ideal for layering or wearing as is.
Nicole Miller's '09 Spring Dress Line
Couture designer, Nicole Miller showcases flowing, fitted and floral styles in her 2009 line of spring dresses. Her Silk Georgette Halter
places silvery spirals to lighten the purple backdrop and weaves a dramatic halter strap for a low-cut neckline.
When playing with grays, Miller contrasts textures for a striking outcome. Her Metallic Dress
unites a soft floral, pleated-front bodice with a loud, above the waist taffeta skirt.
Solids are equally stunning. Nicole's Faux Wrap Matte Jersey Dress
uses the elements of an asymmetrical neckline, a luring off the shoulder accent, and waistline tie to create a summer showoff piece.
The Sleeveless Jersey Sheath Dress
is just as sassy with vertically lined pleats on an Empire waist.
Playful prints and baring shoulders make this handkerchief style "One Shoulder Print Dress"
full of fun.
Miller arranges lilacs into a geometric grid by adding bold colors and solid vertical lines on the backside of her Matte Jersey Dress
to emphasize a slim fit.
Maximum Comfort with the Maxi Dress
The maxi dress or what we like to call "our figure friendly wear anywhere dress" creates the ultimate union between style and comfort. Lightweight and ideal for lounging, weekending, working or dining, the Splendid Stretch Knit Maxi Dress
has worked its way into our closet as a summer must!
Golden flats similar to Sam Edelman's Greco Gladiator Sandals
combine metallic leather with front braiding and double ankle straps for an effortless complement to lengthy dresses.
Complete the look with Jessica McClintock's Embellished Gathered Clutch,
whose neutral tones and geometric stones draw subtle flair to simple solids.
- Jessica Krznaric, Online Fashion Editor
The Secret of Silk
Alexander Mcqueen, known for his lavish runway designs, adheres to the 2009 trends with his 100% silk crepe Capri.
A widely spotted fabric in tunics and trousers, silk evaporates moisture and creates a cool sensation against the skin, making it high on the fashion radar and the perfect go-to fabric when wanting to avoid skin to sun contact.
Hollywood's Hot List
Already high on the radar after being coined as "Hollywood's Hottest New Designer" by In Touch Magazine, CC Skye pioneers true "IT" fashions in all areas of accessorizing. Her 721 Kelly Green Patent Leather Handbag
merges vivacious colors and 18K gold plating for a daring look.
Boho Love
Simple elements like cork and native patterns infuse a Bohemian feel to the beloved gladiator.
Quick Tip: Ever in a rut with nothing to wear? Printed shoes like Chinese Laundry's Gladiator Sandals
are a speedy resolution to reviving the life out of worn out favorites.
Work and Travel Transitional Fashion
Even though this outfit is perfect for the office, it's also an ideal ensemble for travel. The packability and neutral tones of each piece make this a suitcase mix and match pleasure.


These menswear inspired 'S MAX MARA Dress pants
capture the latest trend in androgyny.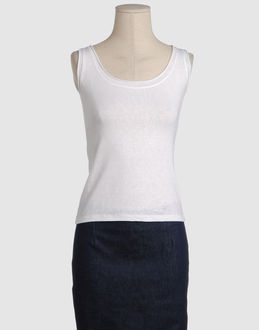 Pairing the pants with this body conscious sleeveless C-ZERO knit top
, creates a perfect balanced silhouette.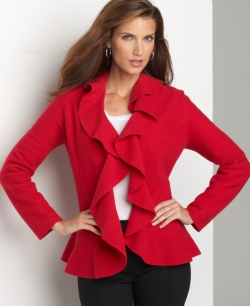 The bold ruffles of this Jones New York Ruffled-Front Long-Sleeve Cropped Sweater Jacket
adds a feminine touch to the ensemble. Plus, it combines the comfort of a knit with the sleekness of a jacket. Perfect for transitional dressing.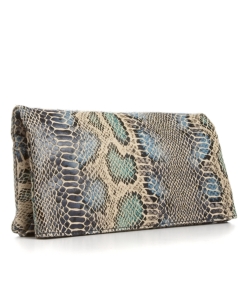 The Alfani "Arrezo" Clutch
adds a textural element of snakeskin, plus, the multi-colored hues provide a great complement to any outfit, and finalize the definition of gray.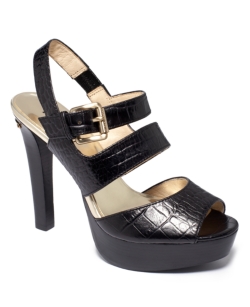 Michael Kors "Brookville" Platform Sandals
lengthen and elongate the look.
This ensemble calls for one piece of bold jewelry, which will not compete with the elaborate neckline. Enter the 14k Gold Multistone Earrings
, an investment piece that will pay many returns.



For the final touch, spritz on Miss Boucheron Eau de Parfum Spray
. Now you're ready to conquer the workforce and break the glass ceiling.
6 Degrees Striped Dress means Exciting Transitional Fashion
It's that time of year again. Dressing up warm just to peel it off to get cooler later in the afternoon. What's a girl to do? First stop, put on the 6 Degrees Striped Dress with Knot Detail.


To keep warm, pop on the easy-to-remove-later 525 America Motorcycle Cardigan

.


It's just getting warm enough to start letting your toes peep out, but you'll want some thickness to nod to the cold weather, and some yowza to make a nod to your extreme fashion sense. Nothing better than a pair of kick-'em gorgeous BCBGirls "Rossina" Platform Sandal Women's Shoes
.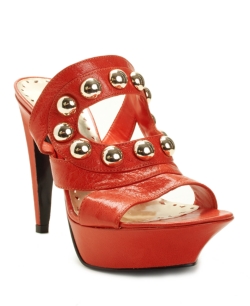 The Alfani "Genova" Cut Out Handle Clutch
is easy breezy and helps pulls this outfit together nicely.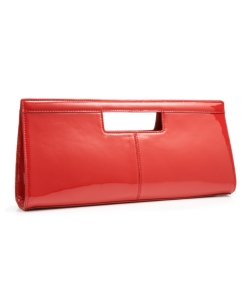 And for the final touch, your jewelry statement: 14k Gold Citrine & Garnet Ring to flash at the friendly daffodils outside.
.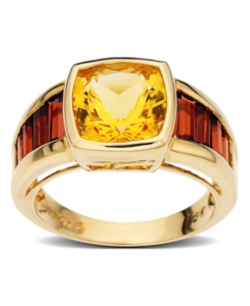 And the exquisite 14k Gold Onyx Spiral Drop Earrings
to contrast your blonde or red hair; or, if you're a brunette or darker, even better—their statement: drop dead gorgeous darkness.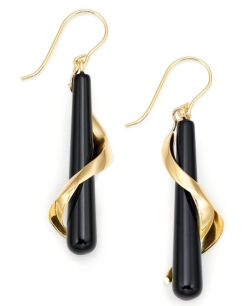 Now can't you just see yourself on the back of an Italian's motorcycle, zooming through Rome in this number? But barring that trip to Italy, this will still work in the office, on campus, or out and about with the gals for happy hour or your significant other for dinner.

Oh, P.S. How could we forget! The perfect fragrance? Why, Flower by Kenzo, of course.

Botkier Sasha Large Duffle
I've just found my new bag for spring. Available in three sizes, the large duffle is perfect for stashing all of my everyday essentials plus is ideal for travel. The beautiful cocoa leather is a perfect addition to my black dominated wardrobe as well.
Botkier Sasha Large Duffle

Free People Beach Bonfire Romper
This boho inspired romper from Free People
is the perfect go to piece for an easy, pulled together weekend look. For an evening, I'll pair it with a boyfriend jacket, heels and loads of long chains.
Liven Your Trench
Add life to your coat collection by choosing bold prints. INC International Concepts' Double-Breasted Belted Trench
uses longevity and a personality of its own through its hot pink expressions.
Retro Bathing Suits for Spring/Summer 2009
With summer just around the corner, there's no time like the present to scoop up the hottest swimwear trends for 2009. Here's what you'll be seeing on the beach and at the pool this year!
The Sexy Strip: a silver trikini (a strip connects the top of the bikini to the bottom) with inlaid stones.
Tarzan's Girl: a black and silver tight-to-the-skin bikini with a skirt in a sleek, snake-skin texture.
Oh la la, Auguste Herbin: hyper-graphic, geometrical cut-outs that take trikini's to the next level.
Think Bridget Bardot: more cloth in a bikini, with a gathered-bustier top and teeny, flouncy bottoms, in an extremely feminine dotted pattern—girly, girl!
St. Tropez - 1960: example, the Panos Emporion suit, that offers more coverage (gathered) in a sleek maillot.
No Straps, Please: a bustier top with a cleavage-ring and low-cut bikini bottoms, set in a floral pattern leaving beach-goers oo'ing and ahh'ing.
Picnic Girl: tiny red and white picnic cloth, sewn into an itsy bitsy little bikini with blue ribbons trimmed in; the accessorized dangling plastic cherries scream play, play, play!

Sardinia Cover Up: chic and sophisticated, with quarter length, slightly-belled arms, thigh-high hem, and an empire-waist cut, in rich plum colors.
Elegant Glamor: black one piece with a thick white stripe starting from under the breastbone alllll the way down, topped off with a wide brimmed black hat secured with a white scarf. Top this baby off with some black Channel glasses and everyone will want to be you.
Coral on the Reefs: sophisticated, vibrant colors, like reds and corals, alone or contrasted with white, in bikinis with scallop-edged tops, and one piece, higher-than-hip cuts.
Jet Set: brown and taupe teeny print, small-gathering at the cleavage, sweet-slim straps in a one piece say beauty-without-trying.
Cape Town: an asymmetrical, plum-brown, second-skin one piece with one chained shoulder strap.
Acid Explosion: a bikini with framed-black colors splashed everywhere.
A Two Way Impossibility, Possible: this is a different cut, without trying to be different - a playful song of yellow. Bikini bottoms that almost look like shorts, but are definitely bikini bottoms; a bikini top that almost looks like a ribbed bustier, but is really a bikini. This little ensemble could easily be a itsy bitsy bikini or a shorts set!
Geometry You Can Love: string bikinis in a neo-geometric prints, and bikinis without strings that have geometric built-in belts, and totally geometric tops.
Beachwear for The Guys: ultra-Hawaiian-floral-on-dark-green shots and pants.
Photos Credits: Journal des Femmes
Alexander Wang Double Breasted Blazer
We're always on the lookout for versatile acquisitions and this Alexander Wang Double Breasted Blazer
fits the bill perfectly. The longer length of the jacket accompanied by three quarter length sleeves is reminiscent of the much beloved boyfriend blazers of the 1980's. Perfect paired with jeans, skirts, or mini dresses, this piece is destined to become a wardrobe staple.
Rag & Bone Oxford Shirt
The white button down oxford shirt always a wardrobe classic, has been updated by Rag & Bone
with a decidedly modern twist. A tailored fit creates the perfect balance of masculine and feminine elements for a very on trend look.
Current/Elliott 'The Roll' Stretch Denim Shorts
Current/Elliott
, who brought the Boyfriend jean back onto the fashion radar, has reinvented their much sought after jean for the spring. Thanks to this design duo, you won't need to depend on your boyfriend perfectly whisker and tear his favorite jeans to perfection. Creasing, fading and touches of distressing all combine to create a perfectly worn-in look in cool stretch-denim shorts with a relaxed shape and rolled cuff for a stylishly casual look.
Frye June Wedge Sandals
Frye 'June' Wedge Sandal
with a signature burnished finish and harness buckle detailing is sure to become one of our go-to spring sandals. Perfect paired with flirty summer skirts and dresses, we also can't ignore the fact that the platform heel makes our limbs look a mile long.
$202
Max and Chloe
We couldn't help by gawk over Max and Chloe's Blu Bijoux cabochon rings. Available in turquoise, red, white, coral or black, these golden gemstone clusters measure 3/4 inch thick knuckle to knuckle and add enough flair for your fingers to show off their playful side.
Florentine Flair
Worn by Eva Longoria, Vita's genuine leather bangles
create just enough color for easy accessorizing. Handmade by Florentine artisans, this Italian design group also manufactures for iconic fashion labels including Gucci, Fendi and Ferragamo.
Simple Solutions for the Office
Looking for a quick fix to update your office attire? Ruffles are a trendy solution to putting life back into the good 'ole button down. Jones New York Signature Button-Up,
pleated to please, adds a ruffle placket and diamond-weave pattern to liven up this everyday basic.
Yee Haw!
Jessica Simpson's Geni Sandals
merge southwestern flair and summer fun with layered fringe and a playful tassel.
Crazy for Crimson
Master trendsetter, Allen Schwartz, continues to please with his crimson-colored matte jersey dress.
Mirroring his chic California inspired style and focus towards a slender facade, Schwartz designs have been seen on the red carpet among include Keira Knightley, Salma Hayek and Jennifer Hudson.
MORE FASHION OBSESSIONS…
Bow-Topped Swing Dress
I love the retro inspired but modern feel of this chic swing dress by New Zealand-based designer Hi There from Karen Walker. I'll pair this cute…
MORE
Vince Camuto Colorblocked Coat
Vince Camuto updates the trend in colorblocking with subdued colors and a classic cut, perfect for those chilly days ahead.
MORE
Rachel Zoe Tote
Stylist to the stars and now designer Rachel Zoe's fashion and accessory lines are infused with her unique brand of 70's flair. From the gold hardware…
MORE
DV by Dolce Vita Booties
I love the strap detailing around the ankles of these chic booties by DV. I'll be sure to rock these with my skinny jeans this fall.…
MORE
J.Crew Shrunken Blazer
I love the perfect cut and fit of this slightly shrunken little boy's blazer from J.Crew. I can't wait to pair it with a faded denim…
MORE
MORE FASHION…
Fashion Obsessions
Savvy Shopper
Fashion Articles